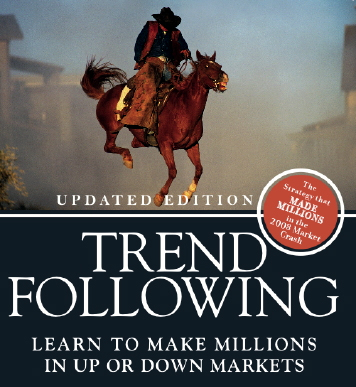 Trend Following, By Michael Covel
Trend Following[i] Explains the concept of trend following as a trading method. The book clarifies the idea, for those who don't understand what trend following is. It goes the extra step of providing a compelling argument for the benefit of using trend following in bull and bear markets.
The book profiles various traders and hedge fund managers who follow this methodology. We can see their performance records of traders like Bill Dunn, get a look at their past performance, and hear some personal viewpoints.
Trend Following Focuses on the philosophy of trend following and the performance of some of the top traders who practice it. This is not a technical book that goes through the details of executing this methodology. This is probably why the book holds your attention.
To learn about the specific indicators, tactics, and executions, you'll need to read something else.  If you're exploring trading philosophies, and are curious about trend following, this is a good book for that.
Posted by: Tahric Finn
---
[i] Covel, Michael (2009). Trend Following (Updated Edition): Learn to Make Millions in Up or Down Markets (FT Press; 1 Updated edition, February 25, 2009).ISBN 013702018X (English) ISBN 978-0137020188 (English)